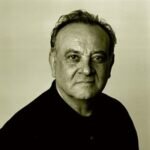 Angelo Badalamenti is an acclaimed and prolific composer who has written some of the most unique film scores of our time. He is widely known for his long-standing collaboration with the director David Lynch, which has produced a creative and inspired body of work.
In addition to his music for film, Badalamenti has written distinctive themes for the television series "Twin Peaks" and "Inside the Actors Studio", as well as "The Flaming Arrow" Torch Theme for The Summer Olympic Games in Barcelona. He has collaborated with recording artists David Bowie, Paul McCartney, Pet Shop Boys, Tim Booth, Anthrax, LL Cool J, Michael Jackson, Nancy Wilson, Nina Simone, Della Reese, Mel Tillis, Julee Cruise, Marianne Faithfull, Dolores O'Riordan, Liza Minelli, Roberta Flack and countless others.
Born in Brooklyn, New York, Badalamenti studied composition, French horn and piano at the Eastman School of Music and the Manhattan School of Music, where he received a Masters degree. Following his classical training, he worked for five years as a music teacher in Dyker Heights, Brooklyn, while spending summers performing as a pianist for shows. During this period he was also a busy songwriter and orchestrator for many popular performers.
Angelo Badalamenti began working in film with his scores for Law and Disorder and Gordon's War. In 1986, he was hired by a young David Lynch to be Isabella Rossellini's vocal coach for Blue Velvet. Badalamenti ended up scoring the film, writing the feature song "Mysteries of Love" with Lynch, and even appears onscreen in the piano bar scene. His close relationship with Lynch served as a springboard and since Blue Velvet Badalamenti has scored Lynch's films and projects, as well as those of many other preeminent directors.
Badalamenti has received a Grammy Award for his theme to the groundbreaking TV series "Twin Peaks." The Soundtrack Album from Twin Peaks has achieved gold status in 25 countries. He received an Independent Spirit Award and a Saturn Award for Twin Peaks: Fire Walk With Me and BAFTA's Anthony Asquith Award for his score for The Comfort of Strangers.
Badalamenti has received Golden Globe nominations for The Straight Story and Mulholland Drive, three Emmy Award nominations for Twin Peaks, two César Award nominations for A Very Long Engagement and The City of Lost Children, BAFTA and AFI award nominations for Mulholland Drive and an American Video Conference award for Best Original Score for Industrial Symphony #1.
Badalamenti received both the Composer of the Year Award in 2005 and the Lifetime Achievement Award in 2008 from the Flanders Film Festival: World Soundtrack Awards. In the summer of 2011, Angelo was honored at the ASCAP Film and Television Awards at the Beverly Hilton Hotel in Los Angeles. There, in the same ballroom where the Golden Globes are held each year, he was presented with the Henry Mancini Lifetime Achievement award and gave a live performance of his selected works.
Most recently, Badalamenti has completed a stunning new score for the indie feature, A Late Quartet, a moving drama about the lives of four musicians as they prepare for an upcoming performance of Beethoven's Streichquartett in C# minor, Op. 131 and he's presently composing the score for a new 3D film entitled Stalingrad.